Captain Albert Alexander is one of the SPG Heroes, whose story is told in the song "Captain Albert Alexander." He is most famous for dedicating his entire life to sailing, being a friend to civilians and sea animals, and having many outlandish adventures.
He was portrayed by Bunny Bennett
As a child, Albert showed a strong passion for the ocean, and by the time he was thirteen, he was very skilled at sailing. He would run down to the local lake every day after school to enjoy what he loved most. Townsfolk would often watch him sail but there were rumors among all of them that Albert's obsession with the sea would one day lead him to his death.
When he was 24, he joined the Royal Navy. At some point during his enlistment, his ship was assaulted by pirates, who promptly murdered his captain. Albert devised a method of igniting the rum on the pirates' ship with a harpoon, and in the ensuing chaos, the pirates retreated. Although they had lost their captain, the crew was saved by Albert's heroic actions and quick thinking.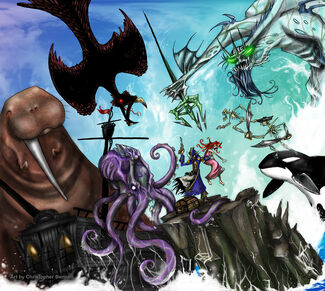 Later in life, between 40 and 50, Albert was captain of his own ship, The Sea Slater, when he encountered a giant walrus. It is said to have been one hundred stories tall, or 400 meters. Despite the giant's enormous size, the walrus was docile and ill, presenting its massive tusk to Albert, which he soon discovered was in decay. Albert swung his anchor around the tusk and although it took many hours, the tooth was out by the end of the day. Legend says that the walrus proceeded to sing Albert's praises, all the while foretelling his doom.
That doom came one stormy night when Albert was an aged man. His ship was struck and decimated by lightning, and Albert drowned to the eerie song of the sea animals in a whirlpool created by a magnificent octopus. It is said that Albert died with no regrets, having dedicated his life to his love of the ocean.
Appearance
Edit
Captain Albert Alexander wears a blue captain's trench coat. He can be seen wearing a matching captain's hat or with a balding head. He also has facial hair which greatly resembles Captain Hook of the Peter Pan story, however, recent changes show that he may not have facial hair during his youth. Albert was a dressy man and worse a white blouse and slacks appropriate for his time. 
Live Appearance
Edit
At Wild Wild West Steampunk Convention II of March 2013, Bunny Bennett brought her character to life. Just like in her drawings where you can see Albert, wearing the captain's coat and hat along with the infamous facial hair.
Bunny once again brought life to the character at the same convention in 2014. The only differences between the two appearances would be the lack of facial hair and the make-up that was used in the previous year.
Captain Albert Alexander appears in the music video for 'Weird Weird West' by Professor Elemental as one of 'Three Brothers', alongside Rex Marksley. However, in the video, he lacks his distinctive facial hair.