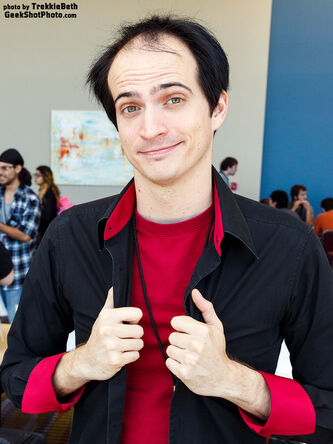 Overview
Edit
David Bennett is the actor for The Spine, in the Musical Pantomime Troupe Steam Powered Giraffe. He is 31 years old and currently resides in San Diego, California.
David's childhood was pretty simple at first, living with his twin sister. Eventually David entered high school. He was working towards his A+ Certification in computers and looking towards becoming an IT Technician. A sudden (but possibly long overdue) divorce between his parents turned David's life upside down during his Junior year. The divorce didn't go well between parents.
Luckily things started to go right again. David felt a new sense of freedom, and quickly became more social at school. He joined the drama department, started to learn how to play guitar, and made new friends.
David graduated high school with honors and had a full year of school plays under his belt. He immediately got a job working as a Data Entry personnel at his father's work and started going to Grossmont College. David auditioned for productions at the college and began to take a multitude of general education classes and Theatre Arts classes. He landed roles every semester, including a few leads. David's job as a Data Entry personnel quickly changed to that of an IT Technician, Graphic Designer, and Print Operator once his and his sister's already developed art & technological skills became realized by the company.
David met Jerry Hager for the first time when he took his Beginning Acting class at the college. David knew of Jerry's "miming" down at Seaport Village and even visited his professor a few times while he was performing. It wasn't until his sister Isabella took Jerry's mime class, and recommend that he take it with her again the following year, that David was introduced to the beauty of the art of mime and movement.
Things escalated fairly quickly and mime became a passion for him and his sister, along with their newly acquired friends Jon Sprague and Erin Burke. Steam Powered Giraffe started at the beginning of the second time David took Jerry's mime class. He wanted to incorporate playing music into the robot act, so his guitar playing skills, along with Jon's became the backbone of the act almost immediately in conceptual stages. David is currently performing and working with Steam Powered Giraffe on a daily basis. Sometimes he designs/codes websites for side-jobs. (Bio courtesy Steam Powered Giraffe's website.)
David was born October 7, 1986 and has a twin sister; Isabella Bunny Bennett, who is also a member of Steam Powered Giraffe.