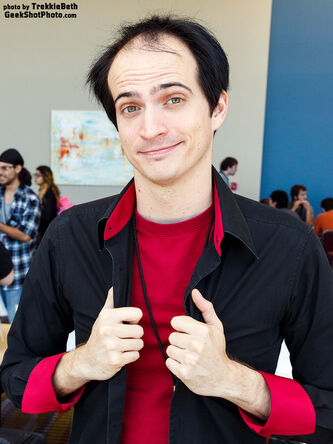 Overview
Edit
David Bennett is the actor for The Spine, in the Musical Pantomime Troupe Steam Powered Giraffe. He is 32 years old and currently resides in San Diego, California.
David Bennett was born the eldest brother to his identical twin, Isabella Bennett (AKA Rabbit). He is exactly one minute older than his sister and has no other siblings. David's childhood gave him enough room to let his creative juices flow and develop. Drawing, plastic model building, computer programming, and taking technology apart and putting it back together again were all staples of his childhood.
In high school he worked towards his A+ Certification in computers and looked towards becoming an IT Technician. A divorce between his parents turned David's life upside down during his Junior year, at which point he joined the drama department, started to learn how to play guitar, and made new friends.
David graduated high school with honors and some school plays under his belt. He immediately got a job working as a Data Entry personnel at his father's work and started going to Grossmont College. David auditioned for productions at the college and began to take a multitude of general education classes and Theatre Arts classes. David's job as a Data Entry personnel changed to that of an IT Technician, Graphic Designer, and Print Operator once his and his sister's already developed art & technological skills became realized by the company.
David met his future mime instructor Jerry Hager for the first time when he took his Beginning Acting class in college. David knew of Jerry's "miming" down at Seaport Village and even visited his professor a few times while he was performing. It wasn't until his sister Isabella took Jerry's mime class, and recommend that he take it with her again the following year, that David was introduced to the beauty of the art of mime and movement.
Steam Powered Giraffe started during his college years with his sister and some other friends who were interested at the time. He wanted to incorporate playing music into the robot act almost immediately in conceptual stages.
David is currently performing and working with Steam Powered Giraffe full-time. He manages the band's show contracts, store, and merchandise shipping with fellow band member Chelsea Penyak, and handles the accounting and finances as well. He also provides his voice and instrumental abilities to the band's albums and he serves as the band's recording engineer, mixing all of the final mixes for their albums.
(Bio courtesy Steam Powered Giraffe's website.)
David was born October 7, 1986 and has a twin sister; Isabella Bunny Bennett, who is also a member of Steam Powered Giraffe.