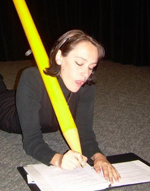 Write the first paragraph of your page here.
Section heading
Edit
Erin was born in the summer of 1986. She loathes the cold because of it. Being the first of her generation in the Burke-Evans clan, Erin was something of an enigma to her family. It had been so long since anyone had had a child that no one remembered how to raise one. Thus Erin was dubbed the "experimental child". Erin's duties as the "experimental child" increased at the birth of her sister, Kelly. Erin would set the stage for every experience her little sister would have. She apologizes for that.
Erin fell in love with performance art at the age 5 when she played Tinkerbell in a school play. She took a brief, 6 year soiree into the world of competitive cheer after the school's theatre program was disbanded.
In 1999, Erin discovered the world of San Diego Junior Theatre. Not much is known of Erin's time at this institution other than the fact that she had many male roles and discovered her love of teaching. By the time she reached high school, Erin was a full fledged Drama Nerd. In her senior year, she was the president of the Patrick Henry Players. 
Following her high school graduation, Erin attended Grossmont College where she received her AA in Technical Theatre. Erin participated in many productions in which she doffed her male roles and donned her slutty female roles. Also, while at Grossmont, Erin attended Jerry Hager's Theatre Mime class where she fell in love with the art. It was because of this time under Mr. Hager's tutelage that Erin and her fellow students formed Troupe San Diego.
During her time with Troupe, Erin found that she, David, Bunny, and Jon had better chemistry with each other than with any of the other members. Jon must have noticed too because it was just shortly after that he suggested they all form their own group.  And that is how Steam Powered Giraffe began, in a nut shell.
Erin Burke left the band in 2011 to peruse he acting career.
(taken fom her old spg bio)