Overview
Edit
G.G the giraffe is a baby mechanical giraffe puppet, puppeteer-ed and voiced by Isabella Bennett. She is, respectively, the steam powered giraffe of the group.
She has claimed that her full name is Gwendolindia Gertrudofferson.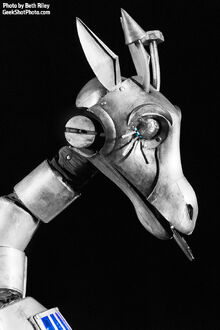 G.G was found by someone in the Walter Manor in the Walter's Workshop after she was shut down and stored in a crate. She is known for talking. A lot. G.G has an advanced learning module that allows her to process information at an alarmingly fast rate. She can be deemed as incredibly self centered and annoying at times. When she was found she was able to do a cover duet with The Spine of the hit song "Diamonds" written by Rihanna, covered by Steam Powered Giraffe.
G.G has now become a prominent portion to the Steam Powered Giraffe show. She has her own song, "G.G the Giraffe's song" that she performs live and plays the kazoo in. Previously she would interrupt the band via video call but these were only projections. As 'Brass Goggles' has recently been thrown into the live show again, G.G will play the piano for the song, again via video call and projections.
G.G also has her own small Youtube series where she reviews movies here.
She read the Twilight series in 5 minutes and then burned the books.

She is an "internet-aholic."

She appears to have the ability to interface with any given electronic.

She has made an appearance in the "Diamonds" and "I Love it" video

She is voiced by Isabella Bennett. 
Ad blocker interference detected!
Wikia is a free-to-use site that makes money from advertising. We have a modified experience for viewers using ad blockers

Wikia is not accessible if you've made further modifications. Remove the custom ad blocker rule(s) and the page will load as expected.