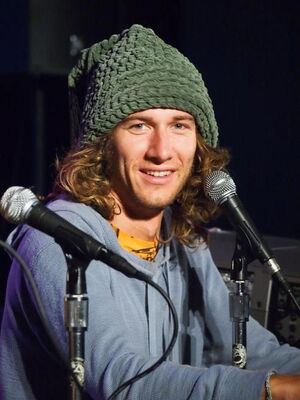 Jonathan Sprague is a former member of Steam Powered Giraffe. He portrayed The Jon.
Jon Sprague grew up in a very nurturing family where almost all of his siblings were gifted in the abilities of art and unicycling. At Grossmont College in El Cajon California he met Isabella Bennett and Erin Burke in Jerry Hager's mime class, and eventually David Bennett through them. After a few years of performing in an improvisational troupe and several semesters of Jerry Hager's mime class, Jon and the other members of Steam Powered Giraffe set in motion the musical pantomime troupe idea that would become their lively hoods.
Jon is able to play guitar, bass, mandolin, piano, cello, kalimba, imbira, drums, and mouth harp. Jon left the band in 2012, due to schedule differences.