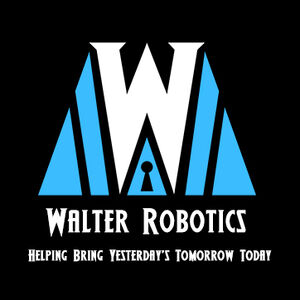 The Walter Robotics Company is an advanced robotics company known for their singing robot band, Steam Powered Giraffe.
The company was founded in 1911 by Colonel Peter A. Walter. Their singing robots performed under the name "The Steam Man Band" from 1916 until 2008, and served in the US Army during World War II and the Vietnam War. In 1983, Peter Walter V developed the QWERTY Operating System for the company.
In 2009, the robots released their first album, "Album One" under the new name Steam Powered Giraffe, and their musical career continues to grow. To date, they have released 6 studio albums and 2 live recording albums. 
Peter Walter VI now runs the company and lives in the Walter Manor in San Diego, CA with his parents and the robots, as well as Wanda and Norman Becile.
QWERTY Operating System
Roomba hats
Sprockets
Cogs
Cold fusion cells
Power cores