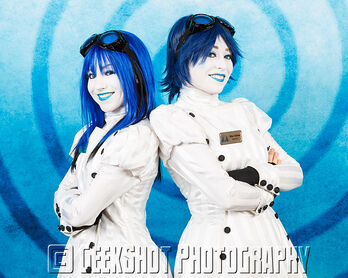 The Walter Workers (previously known as 'Walter Girls') are the mysterious professional assistants of the Walters, and currently work for Peter Walter VI . Their attire consists of white lab coat-styled dress and apron with black and blue accents. Their skin is an unnaturally porcelain white due to their prolonged exposure to Blue Matter, which also darkens the hair, often with blue patches. Outside of their regular robotic duties, they are often found dealing with the latest orders for Steam Powered Giraffe merchandise. Two Walter Workers appear at every Steam Powered Giraffe concert with their own bits and performances as well as sell merchandise.
Current Walter Workers
Edit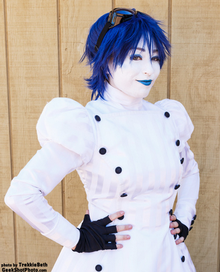 Chelsea Penyak Edit
Chelsea Penyak was announced as the new Walter Worker late March
2014 in replacement of Paige Law, a previous Walter Worker.
There was a great response and welcoming from the fans. Chelsea's first appearance was around April of 2014 along side Carolina, who is no longer in the band. She wears a short, choppy blue wig and goggles as well as the typical dress and striped socks. Chelsea and her sister were previously ballerinas when they were younger, and this aspect of their lives has very recently been put into Steam Powered Giraffe. Now, at every show, the two women perform ballet during 'Hold Me', replacing their ballet performance during 'Turn Back the Clock', which was first done at their live show in Everett, Washington on February 28th 2015.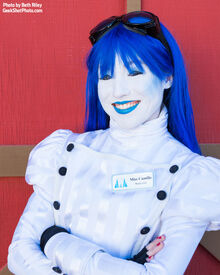 Camille Penyak
Camille Penyak, the younger sister of Chelsea, is also a current Walter Worker. She replaced Carolina shortly after her departure. She wears a long, wispy all-blue wig with bangs. Like all previous Walter Workers, she can be seen in the live shows performing maintenance on the robots when Beebop detects a (typically trivial) error, or when a bot runs into a malfunction. Camille and Chelsea will usually appear during 'Brass Goggles' to dance along with the robots, during 'Steam Powered Giraffe (Reprise)' sporting fluffy cat ears and playing tambourines during 'Go Spine Go'. As said above, Camille now does ballet in the live show.
Lore Based Workers
Edit
Matter Mistress Bunny Edit
Matter Mistress Bunny was a concept created by
Bunny Bennett
which became a large concept amongst the fans as a part of the Steam Powered Giraffe lore. Matter Mistress Bunny has not made a physical appearance yet but is possibly in the works. Bunny Bennett hopes to one day be able to portray the character and bring her to life. The idea of the MM Bunny came about to the public through one of Bunny's many art Livestream videos. Matter Mistress Bunny was just a simple Walter Guy working at the Walter Manor. One day while at work an accident has occurred which caused a great change to Bunny. He was no longer a human nor a male. After the accident Bunny had become the lovely Miss Matter Mistress Bunny, a blacked lipped mime. According to the Steam Powered Giraffe lore, the fact that she does have black lips means that she is mute. As Matter Mistress, Bunny is recognized as the head of the Walter Worker department of Walter Robotics.
Walter Guy SamuelEdit
Samuel Luke was once a simple man who was just a simple drummer for the singing automatons. However, not much is known about why he had left the position other than the fact that he was replaced soon afterwards. Still a part of Walter Robotics Sam had taken up odd jobs here and there involving blue matter. Eventually he had made the transition and has then become Walter Guy Sam. Walter Guy Sam's only appearances include vines by band members, the Walter Robotics Expo videos, etc.
Stand In Walter Workers
Edit
Gabi GonzalesEdit
Due to the sudden departure of Walter Worker Paige, Gabi Gonzales was briefly made a Walter Worker for a show, having connection to the band via her relationship with David Bennett (The Spine). She also appeared at SPG's 7-year Anniversary show in January 2015, but made no stage appearances. There was great feedback on Gabi's performance that fans were requesting that this position would be permanent for her. Walter Worker Gabi can be seen either with satyr horns or with a blue bandanna tied on her head.
Walter Tech Carissa Edit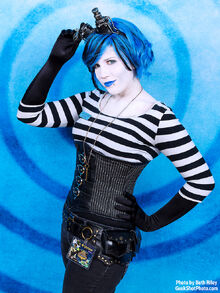 While Walter Tech Carissa is not a stand in for any previous or existing Walter Workers, she is a character created by Carissa Anne originally as a fan costume. But Carissa's character can be seen at local San Diego shows, and she also came to Wild Wild West Con 2015. Not much is known about her back-story or position in the lore, though it can be assumed that she has slightly different duties than the other Walter Workers assuming by her name and costume. A bit was said in a video that she is Rabbit's technician, though has not been included in any stage performances.
Former Walter Workers
Edit
Brianna ClawsonEdit
Brianna Clawson was the first Walter Worker who helped developed the whole physical concept of a Walter Worker. As a Walter Worker and a member of Steam Powered Giraffe she worked in merchandising. Due to her relationship with David Bennett (The Spine) ending, it was a mutual agreement that Brianna resigned from her position in March of 2013.
Paige LawEdit
Paige Law was known as the second Walter Worker to be a part of Steam Powered Giraffe. Once Brianna had left the group, the power of merchandise fell into her hands. Paige was well known as a cat loving gal who was pretty and funny. We were first introduced to Paige as the Walter Worker with the long blue and black pig tails. Eventually a costume change happened which enabled Walter Worker Paige to show off a new hairdo of short black hair with a simple blue piece to it. She often loved having fans confront her and really enjoys the company of others. Paige was a Walter Worker up until March of 2014 when her relationship with Bunny Bennett (Rabbit) ended. It became a mutual agreement that she would resign from the group.
Carolina Gumbayan Edit
Carolina Gumbayan stepped away from her position as a Walter Worker in 2013 (sometime around October?) to focus more on her education and schooling. Carolina originally sported adorable pigtails, one blue, one black, and a cat necklace. Her main tools on stage were her giant Walter Robotics wrench (used to hit Rabbit mid-malfunction on stage) and her orange drill used for robot maintenance. At least a month before she left, Carolina got a new wig that looked slightly feathered, mostly black, with a big bright blue streak on the front right side. She was a lizard.